Personality models can be split into 2 categories: those with odd and even numbers of types.
The models with odd numbers (Chinese 5 Agents 五行, Enneagram, 9 Belbin Team Roles, etc.) define the personalities without analyzing them as mere combinations of aspects. They describe each of them as a whole that is more than just a sum of components: these are holistic approaches.
The models in even numbers by contrast are taking analytic approaches: they analyze the personalities as combinations of aspects, based on binary oppositions: Introvert/Extrovert, Active/Passive, Rational/Intuitive, Conservative/Progressive, Indirect/Direct, etc.
Following the tradition of Carl Jung in analytic psychology, the Myers-Briggs Type Indicator (MBTI), takes this analytic approach to a high degree, by defining 4 aspects:
Extrovert/Introvert: being with others stimulates us, or makes us uncomfortable and exhausted?
Mode of perception: Sensing/iNtuiting: do we sense the practical facts and objective reality, or do we intuitively get the big picture, and the underlying principles?
Mode of judgment: Thinking/Feeling: do we decide objectively based on logic and justice, or subjectively with empathy, forgiveness, and aiming at harmony?
Dominance between the 2 modes: Judging/Perceiving: need for plan and achievement within clear framework and deadlines, or comfortable with improvising in flexible environment?
The combinations of the 4 pairs of letters (E/I, S/N, T/F, J/P) gives the 16 types: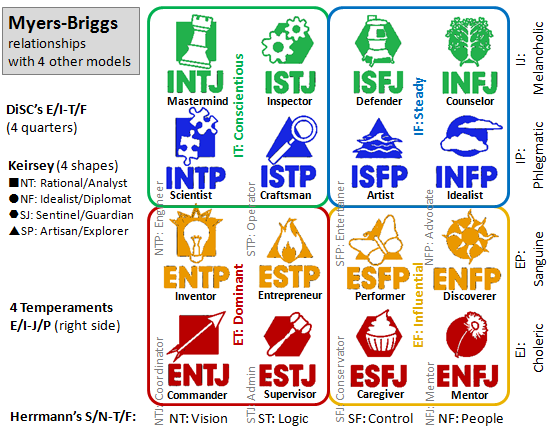 I have tried to integrate into the above MBTI chart 4 other models:
There have been quite many 4-types personality models across history, but matching the types one by one is often too direct. The above diagram uses the wider playground of the MBTI to compare the models more subtly.