Laramin, ma langue construite
By Matthieu on Friday, December 10 2010, 11:03 - Linguistique - Permalink
Le Laramin est une langue nouvelle, un projet-passion né en 2007 de ma rencontre avec la langue de Malaisie et mes notions d'espéranto.
En quelques mots, le Laramin est expérimental et innovant car assez radical dans ses principes de base. On pourrait dire que le Laramin est un "espéranto où les radicaux sont minimisés en taille et nombre, et où même le plus bref affixe peut devenir autonome, avec un sens propre". C'est une langue différenciée comme l'espéranto, où la forme du mot indique sa classe lexicale : nom, adjectif, verbe, etc. Elle est aussi agglutinante comme le turc ou le finnois: 100 radicaux invariables et très brefs s'agglutinent en chaines de sens pour former des mots. La succession des idées élémentaires produit le sens du mot. C'est ainsi que dans cette langue "chaque mot est sa propre définition". Enfin cette langue est à la fois fermée et ouverte, car le nombre de radicaux utilisables est limité, mais leur combinaisons sont à peu près illimitées.
Je n'ai pas encore finalisé les supports de présentations mais comme j'aime montrer de temps en temps ces documents incomplets, les voici (en anglais) :
Livret de présentation du Laramin
Un livret à imprimer en A5 (format "feuillet") qui introduit les concepts et illustre par des exemples.
Feuilles Excel de conception du Laramin
La feuille Excel détournée pour gérer et entretenir le vocabulaire, générer et mettre à jour automatiquement les phrases. Un document un peu complexe mais littéralement le cœur du travail sur cette langue, montrant par le biais des formules toute la mécanique de construction des mots.
.............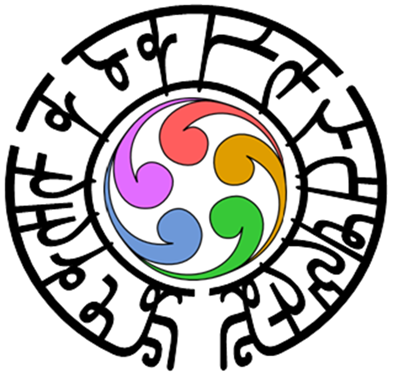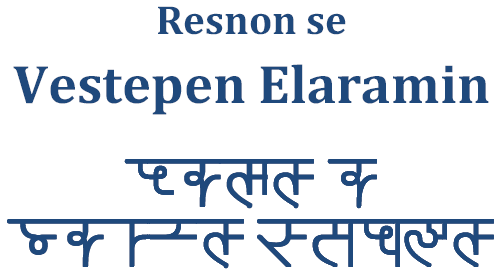 (Un logo inventé pour la langue... car un bon projet, c'est avant tout un bon logo !)
(Les 5 boules convergentes représentes les 5 classes lexicales: Nom, Adjectif, Adverbe, Verbe, Préposition)
(cliquez sur le logo pour ouvrir le livret de présentation du Laramin en pdf)

Deux articles Wiki de présentation est disponible pour le Laramin et l'écriture Larafon:
http://www.europalingua.eu/ideopedia/index.php5?title=Laramin
http://www.europalingua.eu/ideopedia/index.php5?title=Larafon
Laramin is the name of my constructed language. By now the design is still in progress. This is an experimental and original language that could be compared to Esperanto with regards to the signature of the word class (utilization of specific markers for nouns, verbs, adjectives, etc.). It share also the feature of being agglutinative, with the particularity that every single affix is a radical in itself, with a proper meaning and can be used independently.
One challenge of Laramin is to generate all the lexicon and grammar from a limited set of 100 ideas/radicals. 53 have been defined so far, and over 500 words have been defined although still largely under-exploiting the current combination potential.
2 documents in English are in progress for those who would like to discover this work:
Introduction booklet to Laramin
To be printed in A5 using the "booklet" setting of the printer. Gradual introduction with examples.
Excel spreadsheet as workshop for Laramin
An Excel workbook containing the latest Laramin lexicon and phrases. Excel formulae are used in order to automatically generate and update the vocabulary and the sentences. This document may be more complex and confusing than the above, but it shows also more clearly the mechanisms of word building. It is the most updated summary of Laramin.
Finally, Laramin can also be written with its own syllabary, Larafon.