Etymology - Esperanta Vortorigino kaj Komprenebleco
By Matthieu on Thursday, September 26 2019, 20:56 - Permalink
Esperanto:
Mi kunhavas chi tie kelkajn datumojn pri la vortorigino de Esperanto. Mi surbazis de la laboro de Andras Rajki el jaro 2006. Li studis grupon de 4000 vortoj kaj serchis la similajn vortojn el la latina, franca, itala, germana, jidisha, nederlanda, angla, rusa, pola kaj lituana lingvoj. Tiuj lingvoj estas konsideritaj tiel "lingvoj de Zamenhofo" char estas la lingvoj kiuj Zamehof pli-malpli kapablis kaj vershajne uzis por krei la internacian lingvon.
Andreas Rajki studas per sia vortprovizo la kompreneblecon inter tiuj lingvoj. Lia samecaj kondichoj estas iom striktaj (priskribitaj chi tie) Ekzemple li jughas ke "perfekta" ne sufiche similas "perfetta", "distanco" ne sufiche al "distanza" aw "distantia", "historio" al "istoria", kaj "havi la "haben", aw "trinki" al "drink". Do oni povus rekalkuli pli grandajn porcentojn de interkomprenebleco se inkluzus tiajn prununcajn variajhojn.
En tiu bilda rezumo ni povas vidi kaj la granda plejparto de Esperanta vortorigino estas la franca kaj latina. Preskaw 80% devenas de la romanaj lingvoj. Sed plej interesa estas ke tiu vortaro tamen tre bone kompreneblas de la parolantoj el la germanaj aw slavaj lingvoj.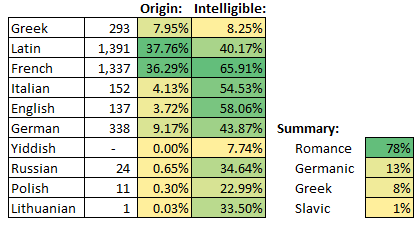 English:
I'm sharing here some information about Esperanto etymology. The work is based on data published by Andra Rajki in 2006. He studied a set of 4000 words for which he looked for similar words from Latin, French, Italian, German, Yidish, Dutch, English, Russian, Polish and Lithuanian. Thos languages are considered "Zamehof languages" since Zamenhof knew them and probably used them to create the International Languages.
Andras Rajki studied the mutual intelligibility between these languages. His similarity conditions are somewhat strict (details here) He decided that "perfekta" wasn't similar enought to "perfetta", "distanco" neither to "distanza" or "distantia", "historio" to "istoria", and "havi to "haben", or "trinki" to "drink". We could then recalculate larger percentages of intelligibility if we'd include those variations of pronunciation.
In the picture we can see that the vast majority of Esperanto vocabulary comes from Latin and French. Nearly 80% come from Romance languages. However it is even more interesting to see that this lexicon is still well intelligible to speakers of Germanic or Slavic languages.