Laramin now goes fully ideographic !
By Matthieu on Friday, June 19 2015, 06:02 - Linguistique - Permalink
Since 2012, a new script has been developed for Laramin, my first constructed language. More than ever it fits the project since it's purely ideographic.
Laramin has always put the emphasis on "meaning in itself" as far as such thing is possible. That is, all derivations, declensions, and conjugations are done using radicals with independent meaning. The targeted reading experience is to have a very analytical language structure (all words and grammatical aspect can be broken down to few fundamental ideas) only using direct visual symbols. (not like: "A" is a deformed ox head loosely pronounced "a", which in some contexts is an indefinite article..)
Larasem (for LARAmin SEMantic script) is made of simple visual components shared by all human civilizations: hand, foot, eye, tree, branch, cup, etc. Most Larasem combine several components to form an ideogram. This method can be compared to the Chinese 会意字 which also puts together ideographic components. More explanations can be found in the introduction PDF.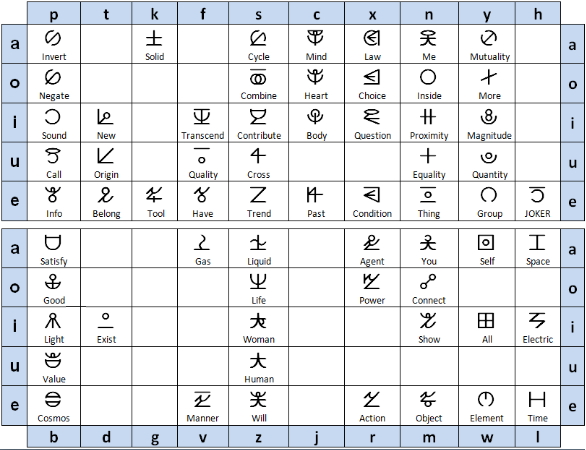 Here is a sample with the original text, translation with Latin script, phonetic script, and finally the ideographic script :