Alphabet Braille revu / A phonetically designed Braille
By Matthieu . on Sunday, October 19 2008, 09:46 - Linguistique - Permalink
Le fameux alphabet pour aveugle m'a souvent étonné pour le caractère arbitraire de la transcription qu'il donne de l'alphabet latin.
En effet, une série des permutations de 6 points est simplement juxtaposé à l'ordre alphabétique traditionnel...
Mon premier réflexe a été de favoriser la ressemblance graphique, en faisant ressembler au mieux le code 6-points et la lettre correspondante. Le résultat n'est pas mal, (notamment pour les lettres P b q d C J I L) et offre une lectures intuitive quand on connait l'alphabet latin. Mais là question : la majorité des aveugles connaissent-ils cet alphabet pour voyant ? Un aveugle de naissance ne trouverait aucun intérêt à cette ressemblance ! Et même quelqu'un le connaissant serait sans doute tellement plus sensible à l'ouïe qu'il semble naturel de favoriser la correspondance phonétique plutôt que visuelle.
Voilà le résultat, avec des caractères similaires pour les sons similaires.
Il a fallu faire tenir nos 26 lettres dans grille phonétique, au prix de quelques approximations (en orange).
Enfin, voici la police d'écriture Phono-Braille. Il suffit de la copier dans le dossier C:\WINDOWS\Fonts pour pouvoir l'utiliser.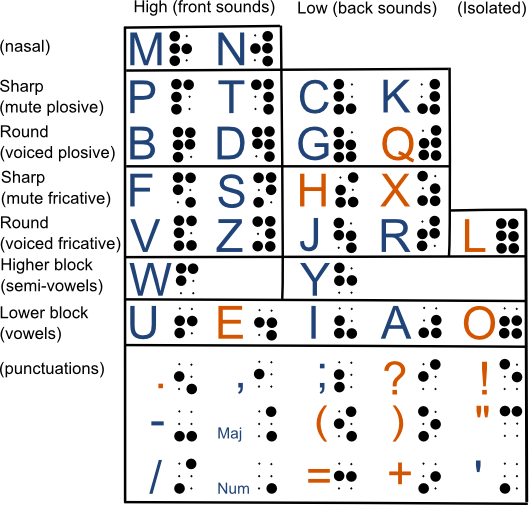 I have often been surprised how this 6-spot code for blinds gives little similarity between the character and the letter it represents. It is mostly based on the alphabetic order, which is arbitrary.
My first attempt to review it has been to try and maximize this visual correlation in a new Braille table.
However I realized that a phonetic similarity would be more relevant for blind users ! I achieved this table, through a distribution of alphabet letters into the phonetic table. (improper or approximative positions are shown in orange)
The True Type font of Phono-Braille is also available. It can be installed by copying it in the directory C:\WINDOWS\Fonts .
Here is a text sample with the first article of the declaration of Human rights:

All human beings are born free and equal in dignity and rights. They are endowed with reason and conscience and should act towards one another in a spirit of brotherhood.
Ci-dessus un exemple de texte avec le premier article de la déclaration des droits de l'Homme.
Discussion on the language creation forum