Restyled Vietnamese Traditional Instruments
By Matthieu on Thursday, May 1 2014, 14:46 - Permalink
For me, discovery goes hand in hand with creativity, and learning something new often triggers ideas about how to improve it, or at least to personalize it!
Here are 2 creations, with their respective mp3 samples.
Here are two music instruments which I crafted between 2011 and 2013, based on local Vietnamese instruments.
This violin-like is adapted from Đàn Nhị 弹二 (itself from the Chinese Erhu 二胡). I tried to maximize the size of the resonance chamber while minimizing the dimensions. That implied to curve the cylindrical chamber, using a noble PVC toilet pipe (ống vệ sinh 卫生管), and use pulley to send back the strings back to guitar tuning mechanics.
We could therefore call this abomination "Đàn Nhị Vệ Sinh" 弹二卫生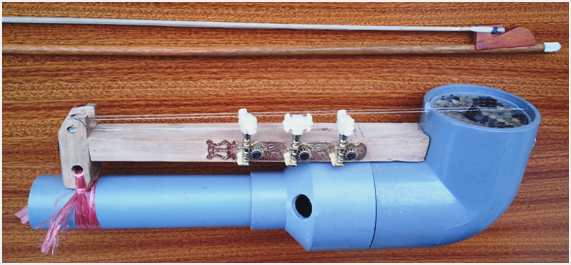 The resonance membrane is an authentic snake skin, like the original instrument. The strings and the archet are also regular ErHu ones.
Here is how it sounds: Some notes, and short melody.


This one is based on a Vietnamese Kền bầu (itself from the Chinese Suona 唢呐, coming from the Persian Zurna).

The sound is totally different since I've replaced the original double reed by a single free reed (like in the harmonica), which comes from a Chinese Hulusi 葫芦丝. It gives a sound ranging from clarinet to uilleann pipe, or anything horrible in between!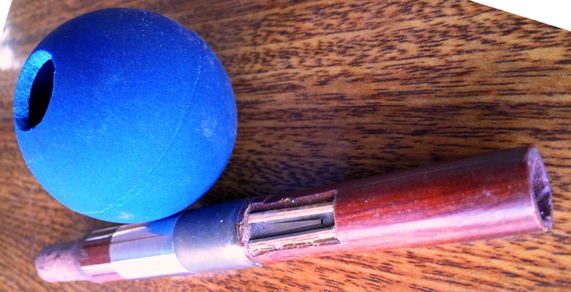 Here is how it sounds: Some notes, and short melody.


And finally, in 2013 I've found an artisan in Hanoi capable of making a "Tam Thập Lục" (三十六, 36 strings),Vietnamese version of the Iranian santoor, which reached Vietnam in the form of the Chinese YangQin 扬琴. I haven't customised this one too much. The tuning is in semitones, giving a very flexible chromatic instrument, ranging over 3 octaves and a fifth (each string being intercepted at its 2/3)

Here is how it sounds: Some notes, and short melody.