Script du vieux Perse / Old Persian font
By Matthieu on Thursday, March 1 2012, 10:24 - Linguistique - Permalink
En fouillant dans mes dossiers, j'ai retrouvé aussi cette police d'écriture que j'avais préparée pour le vieux persan. Cette langue était celle de l'empire Perse jusqu'à ce qu'Alexandre ne le conquiert. Contrairement à ce que son allure de Babylonien ou Akkadien peut laisser imaginer d'idéographique, ce script était syllabaire: chaque caractère représente un son ou une syllabe.
Encore une fois, à toutes fins utiles, le voici !
Dans ce tableau en dessous de chaque caractère est indiqué la lettre à taper pour obtenir le caractère en question: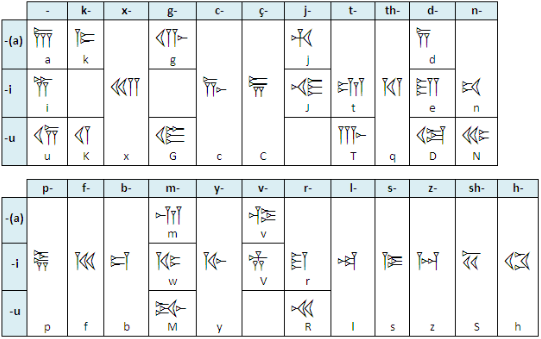 Here is a font I have prepared for Old Persian writing. All characters can be typed using the latin keyboard, following the above table.